The Bihar Police has reached Mumbai and is conducting its own parallel investigation in Sushant Singh Rajput's case, after an FIR was lodged in Patna by SSR Father, K.K Singh against Rhea Chakraborty and family. 
Recorded Mitu Singh's statement
As per DNA report, the four-member team has recorded the statement of Sushant's sister – Mitu Singh, who told them the details of what happened between June 8 – June 12. She revealed that Rhea had called her on June 8 after fighting with Sushant. Mitu then went to stay with Sushant for few days as Rhea left the Bandra home. 
"Sushant told me about the argument he had with Rhea, after which she left his place with a few of her own and his belongings, saying that she might never return. Sushant was really upset and seemed affected by this incident. I tried to comfort him and stayed there for 4 days but because my kids are young, I left his Bandra pad on June 12.
After two days on June 14, I got a call from Sidharth Pithani saying Sushant is not opening his door and has been inside his bedroom for long. I immediately for his place and meanwhile tried calling him also but all in vain. After reaching his house, with the help of a locksmith, the door was opened and I saw Sushant's body hanging from the ceiling. I was shocked and didn't know what to do. After sometime Mumbai police came and started the investigation."
Probing Sushant's Bank Transactions
Bihar Police have started probing the matter of Sushant's bank accounts since the FIR had allegations of Rhea Chakraborty siphoning off 15 crores into accounts that had nothing to do with Sushant.
As per Zee News report, the Bihar Police requested the Mumbai Police to share information regarding Sushant Singh Rajput's bank accounts and transactions, but Mumbai Police wants them to submit official request first.
The Special Investigation Team was spotted at Sushant's bank branch earlier in the day. Bihar Police team will also check in with Sushant's CA for more details about his finances and the transactions he had made.
Enforcement Directorate To Probe Money Laundering Angle
As per report from Times Now, even the Enforcement Directorate which is a law enforcement agency and economic intelligence agency has now stepped in. They have written to Bihar Police seeking a copy of the FIR registered against Rhea, to look at a possible investigation from money laundering angle under the Prevention of Money Laundering Act (PMLA).
Reports suggest that the central probe agency has stepped in to probe the alleged financial irregularities in Sushant's two companies Vividrage Rhealityx and Front India for World Foundation.
Ankita Lokhande Statement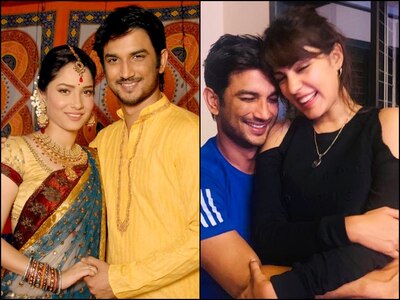 The team is likely to soon record Ankita Lokhande's official statement as well. Earlier, as per DNA report, Ankita had revealed to Bihar Police that during Manikarnika release when Sushant had congratulated her, he had also opened up about his relationship with Rhea to her.
Sushant had told Ankita that he is "quite unhappy in the relationship and wants to end it as Rhea harassed him". Ankita has shared these chats with the Bihar Police.